Heat Pumps
Water a little chilly for a swim? Get more from your swimming season by installing a pool heating system. Here at Wollongong Pool Care we've got pool water heating covered! We can advise on the best heating option for your pool whether it be a Gas, Solar or Electric solution to suit your needs.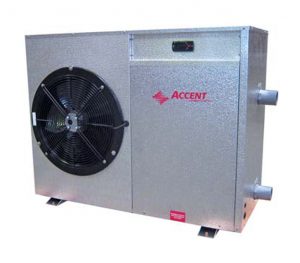 Rheem Thermal Premium Residential Series
Product Details:
– 9kw to 30kw output
– Full commercial construction including marine grade aluminium cabinet
– Compressor housed in separate internal cabinet to help minimise noise
– Anti-corrosion treatment of the evaporator coil
– All models available with either horizontal or vertical discharge fans
– Low ambient, low noise, high efficiency design
– Titanium Heat Exchanger
– Best suited to Australian conditions with enhanced evaporator and heat exchanger capacity
– Proudly Manufactured in Australia
Warranty: 2 Years Parts, 1 Year Labour
10 Year limited warranty on the titanium heat exchanger for any failure due to chemical corrosion
Price on request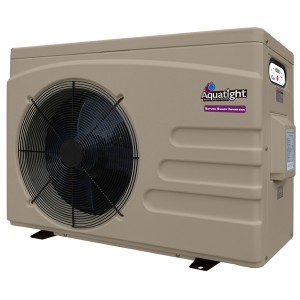 Aquatight InverterMAX R32 Eco – Silent Series Pool Heat Pump
Product Details:
Aquatight InverterMAX – Silent HP is powered by Full-inverter® Technology. It adopts variable speed compressor & fan motor which adjusts the compressor speed hertz by hertz and fan speed round by round. The low-speed running philosophy of Aquatight InverterMAX – Silent can benefit the customers with higher COP and lower sound pressure.
What is R32?
R32-ECO-LogoR32 is a next generation refrigerant that effectively carries heat and has lower environmental impact. Refrigerant is a medium for conveying heat. Heat Pump transfer heat while circulating refrigerant between heat exchanger and evaporator. Although there are various types of refrigerants, R32 is a new refrigerant currently receiving the most interest. Compared to the refrigerants widely used today such as R22 and R410A, R32 has a global warming potential (GWP) that is one-third lower and is remarkable for its low environmental impact.
Price on request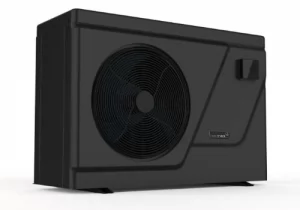 Madimack Pool Heat Pump Series – Summer Eco (Economic)
Built with efficiency and simplicity in mind the quiet, long lasting and easy to use Summer Eco is perfect for energy conscious minds. With low energy and night time mode, it means efficiency can be increased by up to 20%, and with WiFi as standard you can change your pool temperature and timers from wherever you are. State of the art anti-corrosion ABS casing means you can be sure your pool stays warm season after season no matter where you live.
Front air flow fan design
Corrosion resistant casing
Slim and aesthetically pleasing design
Energy efficient with inverter technology
Long lasting technology
Easy to install
AUSTRALIAN OWNED & OPERATED
Price on request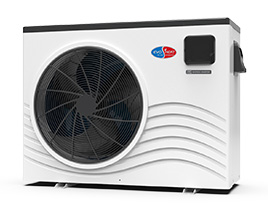 Evo Fusion-i Series Pool & Spa Inverter Heat Pump
The Evo Fusion-i heat pump is the ideal choice for recreational pool & spa owners looking to extend their swim season with minimal running costs. Designed with the latest technology including stepless full DC inverter compressors, fans, and control systems – the Evo Fusion-i is the energy efficient and environmentally friendly way to enjoy a longer swim season. With more features as standard, like the intelligent touch screen controller and built in timers, the Evo Fusion-i is the smarter alternative for those considering gas, solar thermal or electric element heating.
Price on request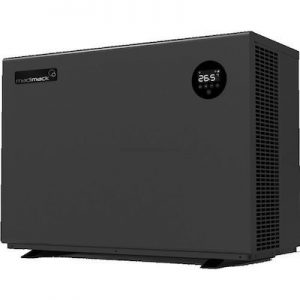 Madimack Pool Heat Pump Series – Elite (Silent)
The Elite comprises of all the best you can ask for in a pool heater. Utilising the latest inverter technology, it creates world class efficiencies and runs quieter than any other unit with its patented back discharge design. This unit stands high above the rest and looks amazing next to you designer pool. With unit size achieving a massive 28kW in single phase you can be sure to heat your pool all-year round.
Back air flow design
Aluminum alloy casing
Unique flat design
Latest inverter technology
Premium componentry
Quietest system
AUSTRALIAN OWNED & OPERATED
Warranty: 10 years compressor

Price on request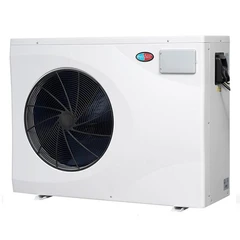 Evo Force-i Series Pool & Spa Inverter Heat Pump
The Evo Force-i series heat pump is our high performance pool and spa inverter heat pump that provides year round pool heating with the lowest running costs. Designed with the latest stepless full DC inverter compressors, fans, and control systems – all working in perfect harmony to provide optimized heating and cooling with the lowest operating costs. With higher performances, lower noise levels, and more features as standard; the Evo Force-i is the most energy efficient & environmentally friendly year round pool heater available.
Price on request