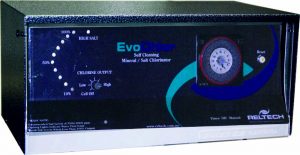 Reltech EvoChlor
Product Details:
The EvoChlor Self Cleaning Mineral Salt Chlorinator is Australian designed and manufactured. The EvoChlor has a technologically advanced digital micro processing PCB and works with standard salts & Reltech's "ELEMENT" mineral / magnesium salt. Has a user friendly and easy to set clock. Is energy efficient with low kw consumption, has no internal fuse / external reset button.
Warranty: 4 years
Australia Made
Price on request
Pool Ranger Magna-Chlor Deluxe 
Product Details:
The reverse polarity (RP) action de-scales the build up of calcium and reduces electrode cleaning maintenance by 95%. The high performance salt chlorination system produces crystal clear pool water. It is safe, clean and is ideal for people with eye, ear and skin allergies when using conventional chlorine. At only 1/7th the salinity of sea water, the pool water has a soft feel which is ideal for people suffering from these problems.

Warranty: 4 years
Price on request