Mineral Salts
Mineral Additives are a unique blend of natural occurring minerals that when added to a pool or spa enhances water quality and provides health and wellbeing benefits to the bather. By using the Mineral Additive, you are creating a mineral bathing destination in your own backyard, allowing you and your family to bathe in soft and natural feeling water. It is simple, affordable and life changing.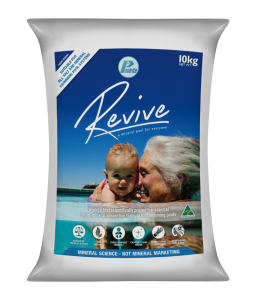 Poolrite Revive® Balanced Multi-Mineral Formula 10kg
Product Details:
Revive® is the World's first scientifically proven transdermal multi-mineral absorption formula for swimming pools.Poolrite pioneered the research of transdermal magnesium absorption in the swimming pool industry, revolutionising the swimming experience. Revive® represents the next generation of advanced mineral and trace element science.
MINERAL SCIENCE – NOT MINERAL MARKETING
For the first time ever, our team have scientifically proven that topically applied magnesium and other minerals can permeate through the skin, providing significant long-term health benefits.
The Revive® formulation provides biologically significant concentrations of vital minerals to help restore the body's natural equilibrium whilst relaxing in your pool.
Price on request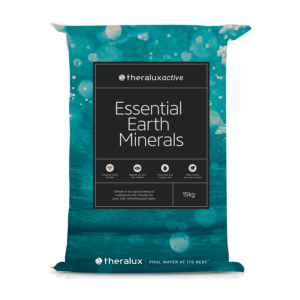 Theralux Enhanced Mineral Additive 15kg
Product Details:
– Produce soft and natural feeling water
– Moisturise your skin as you swim
– Gentle on sensitive skin (perfect for those you suffer from eczema and dermatitis)
– Provide natural relief to muscular complaints
– Relaxes your nervous system
– Conditions your hair, allowing you to easily comb your hair after a swim
– Produce a mild flocking agent enhancing water providing crystal clear quality
– Produce an anti-scaling agent assisting in giving longer life to salt cells, tile lines and other areas of your pool that are susceptible to calcium build up
Price on request
Product Details:
Discover the secret to exceptional swimming pool water quality that is low in chemicals and rich in magnesium minerals recreating a natural mineral pool. EcoClear contains the perfect blend of magnesium-rich minerals for premium pool water quality that feels silky smooth and is crystal clear. Magnesium is well documented to support general vitality and wellbeing.
Features & Benefits
Improved water quality – softer and gentler on skin, hair and eyes
Easy to maintain without high use of chemicals, keeping chloramines to a minimum
Softens the skin and stimulates skin hydration
Detoxifies and regenerates the skin, boosting its natural protective system
Relaxes and helps ease muscle tension Ideal for people that suffer from allergies, asthma and eczema
Price on request