Water a little chilly for a swim? Get more from your swimming season by installing a pool heating system. Here at Wollongong Pool Care we've got pool water heating covered! We can advise on the best heating option for your pool whether it be a Gas, Solar or Electric solution to suit your needs.
How It Works
Zane has developed a system that absorbs the sun's heat and transfers it to your swimming pool. The water in your pool is heated as it flows through a series of solar absorbers – also known as the collector – strategically installed in the contours of your roof. Heated water is then returned to the pool to increase its overall temperature and extend your swimming season.
To capture the maximum amount of energy produced by the sun, the solar collector is usually installed on a north-facing surface such as the roof of the house or garage, on a patio cover, or specially built structure. This way, a typical daily temperature of 20-25°C (68-77°F) can achieve a roof material temperature of around 50°C (122°F).
Unlike other pool heaters on the market, solar pays for itself in just a few years. After the initial setup cost, the ongoing running expenses are minimal as heat is provided free from the sun. This enables you to increase the amount of time you spend in your pool without worrying about expensive energy bills.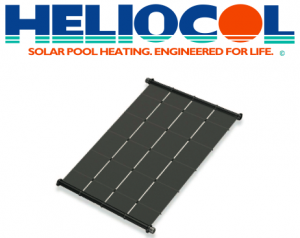 Why Heliocol?
Heliocol Solar Pool Heating collectors offer state of-the-art-technology using quality fittings and materials engineer-designed to provide you with peace of mind for many years.
All individual risers on Heliocol collectors are fully moulded into the headers during manufacture.  This eliminates the need for hundreds of onsite connections, thus reducing the chance of future leakages from these points.  In addition, every collector undergoes extensive pressure testing in the factory before shipment.
Perhaps the greatest feature of Heliocol is the quantity of tubing able to be installed in a given area.  Because of the over moulding process used in the manufacture of the product, the individual tubes are extremely close together.
This allows Heliocol to provide 137 metres of tubing per square metre of surface area.  To our knowledge no other solar pool heating product in the world achieves anything even close to this figure.  This means a smaller area of collector can provide more tubing.